" LUTHER & THE PIG " SONGS

A story for kids of all ages based on Chinese Astrology ( "Sinostrology" )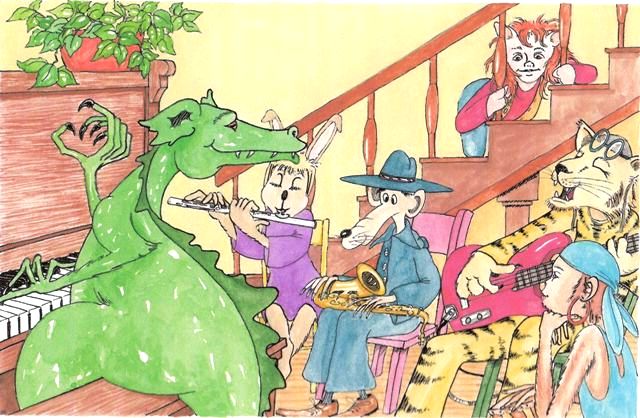 art work: Gordon Talley
songs 1 - 3 words and music by Tammy Bailis
Calm Space: music & arrangement by Herb Gilman
words by Tammy Bailis
READ TAMMY'S MUSIC BIO
SONG TITLE
COMMENTS & NOTES
1 Momma's Song
Momma the Pig has a dream and writes her very 1st song.
"In a world full of color, a place where lovelight gleams,
I tasted freedom in my dreams."
2 Thank You Mother Nature
Clem the Dragon wrote this after harvesting his veggie garden.
"Thank you Mother Nature, thank you for your love! "
3 Fill It With Love
Mad Mavis the Monkey's song with good advice.
"You've got to make your heart a home and fill it with love ".
4 Calm Space
Ronnie the Rat's contribution to the concert.
" There's got to be a calm space, a no-atomic-bomb space,
There's got to be a calm space in your life !!"
(all songs © Bobbe Myseh Music ).