Les Icebergs dans l'Antartique ont quelques fois des rayures, qui ont été formées par différentes couches de neige qui ont réagit de facon différente selon les températures et les conditions d'humidité ou autres.
Sometimes, Atlantic icebergs have stripes which form when separate layers of snow undergo and react to different and ever changing conditions of temperature, humidity and various other environmental factors.
..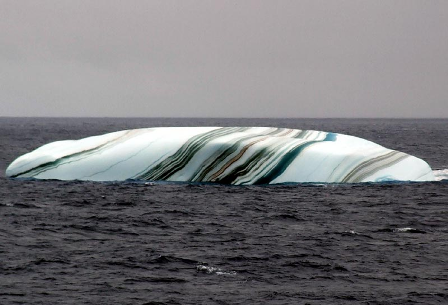 .................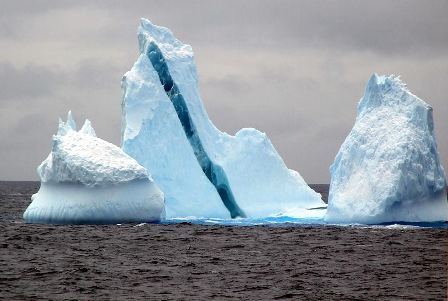 ...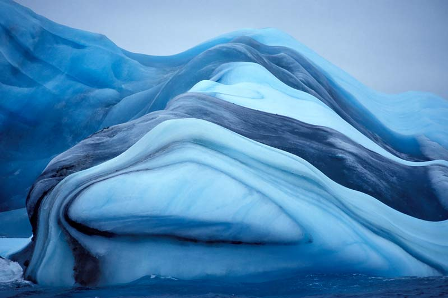 ..........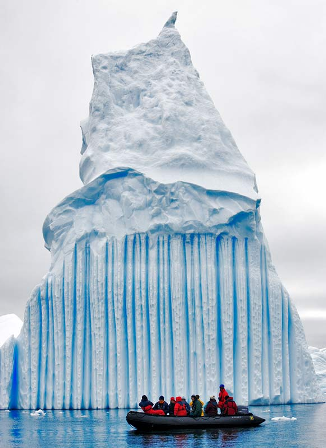 Les rayures bleues sont causées par une crevasse qui se remplit d'eau et qui gèle si vite qu'aucune bulle d'air ne se forme. Quand un Iceberg se détache de la banquise une couche d'eau de mer peut geler sous la surface, et si cette eau contient beaucoup de particules d'algues, la rayure sera alors verte.
Blue stripes appear when a crevasse fills with water which freezes so quickly that there isn't time to form a single air bubble. When an iceberg calves, a layer of sea water sometimes freezes below its surface -- and if this sea water contains a lot of algae, it creates green stripes.
Les rayures noires, grises ou brunes sont causées par les sédiments qui s'accumulent quand le glacier avance sur un fond rocheux.
The black, grey and brown stripes are caused by sediments that the ice accumulates as it moves across a rocky terrain towards the sea.
Incroyable?? .................. Unbelievable??
Vagues congelées !........................ Frozen Waves!
L'eau a gelé immédiatement au moment ou la vague a touché la glace.
The water froze immediately upon touching the ice.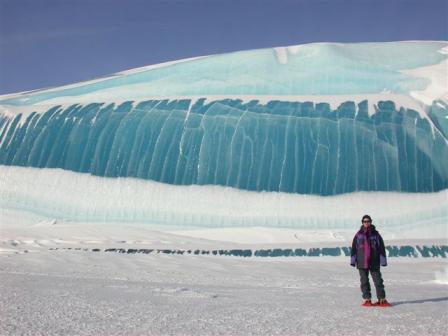 ..........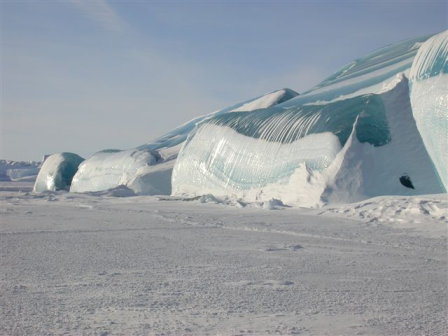 Voilà ce qui arrive en Antartique ou on a connu les températures
les plus froides des dernières décennies.
Here's what's happening in the Antarctic where temperatures have been
colder than ever for the past few decades.
L'eau est déjà sous le point de congélation mais reste liquide à cause de la salinité .
La vague semble figée dans son mouvement!!!
The water temperature is below freezing but it doesn't freeze
because of the salt until it hits the ice, then the wave insta-freezes.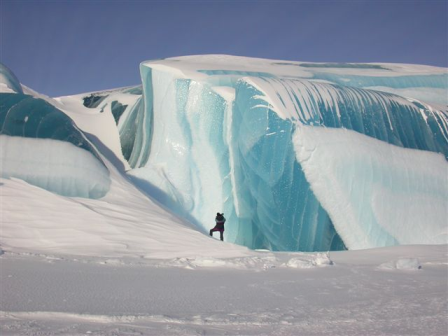 .......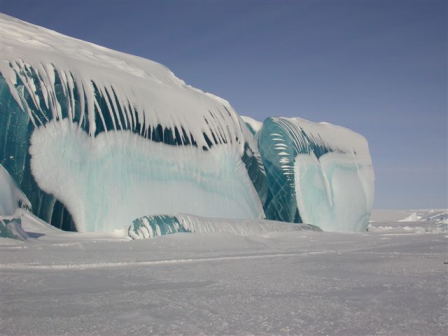 Tell your friends to visit the MathRoom's Nature Wows.
Send them a link to this page or the MathRoom Welcome Page.