SO YOU'RE WRITING A MATH EXAM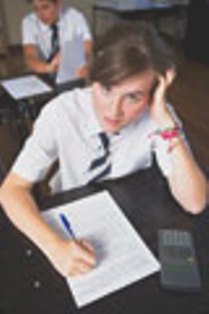 Preparing to write a math exam is very much like preparing to do anything that demands skill, knowledge and intelligence -- it's a process !! -- not an event. You don't prepare to write a high school or college math exam in an hour or two, just as you don't prepare to fly a 747 in a few days. Demanding tasks take time! Your problem however is that you don't have time. You've only got until next Wednesday, you've fallen behind in the course -- and you're about to panic.
Well, panic not good knaves -- (lord, I've suddenly gone Shakespearean!!) -- for help is on the way. Here's a study guide to help you prepare for those upcoming math exams. Follow the guide and I can almost guarantee success -- but you have to follow it precisely and efficiently -- after all, that's what math is all about -- precision and efficiency.
aunty tammy's guide to passing math exams
As with all important stuff in life, preparing for this exam is a three-tiered undertaking. You have to work on:
your study habits,

your lifestyle

your performance on the exam.
Approach this task as if it were preparation for some sports event -- a volleyball game or a golf match. In either of those two cases, you'd practice, watch your eating and sleeping habits as well as keep yourself out of messy emotional situations if possible -- and then you'd play the game with extreme awareness -- pacing yourself -- so as to play your best. Well that's exactly what you want to do in preparation for this exam.
1. study habits
If you can't study when you're at your best -- at least don't cram when you're tired. Carefully balance the on/off -- learning/digesting cycles so that you don't end up so exhausted -- you're just wasting time -- you're not learning or retaining a thing!! Work for 20 minutes and take a 10 minute break. And really make it a break!! If you play an instrument, play a few songs (that's what I do) -- if not -- go shoot some aliens in your favourite video or computer game -- but give yourself digestion time!! Then go back to the books.


Talk your studying out loud. You can't very well do this if you're in the library (you could whisper) but whenever you can -- talk your math. Speaking the words reinforces the memory threefold -- you have to think it, say it and hear it. It works!! Try it. Say stuff like "I'm using the quadratic formula to find the roots of a quadratic equation". You'll have a lot less trouble remembering things.
Practice -- do tons of questions -- the more you do, the better the pattern stays in memory. Doing math is like riding a bike -- you have to practice. If your text book doesn't have enough questions, get a library book and do only the questions that have answers in the back so that you can check your work. Good idea is to work out the examples that the text presents so that you can check all the steps in the solution.
list the topics to be tested. Once you do this, it's no longer just a math test -- it becomes a test on adding, subtracting, multiplying and dividing rational expressions -- or solving quadratic equations using factoring, completing the square, or the quadratic formula. Now you've got an agenda for your study sessions so you can cross off topics as you complete them.
2. lifestyle
Don't stay up late studying. Better to get some sleep and study in the morning when your body is rested. This won't work for those poor souls who take 3 or 4 hours to awaken mentally -- but if you can handle it -- this tactic works well!
Take care of yourself physically and emotionally. Eat those comfort foods!! Don't overdo it but don't deny yourself either. Cut out the coffee -- drink fruit juices, mineral or spring water or even tea rather than coffee. The caffeine makes you edgy and you can't concentrate as well. If you must have coffee -- do decaf And don't decide to break up with your girlfriend or fight with your parents the night before the test. Nothing screws up the think-lines worse than emotional static.
Think positive! Here in Quebec, we don't say "do your best" -- we say "fais ton possible" which means "do your possible". Shoot for realistic goals and then surprise yourself by surpassing them.
3. writing the exam
Read all the questions and then do the ones you're sure about first. You don't have to do an exam in the order it's given. Do it in whatever order is to your advantage. Once you've piled up enough marks to pass, then you shoot for that 80% or 90%.
If you've memorized formulae and are afraid you'll forget them, write them down the second you get paper to write on. You don't have to try to remember those memorized details until such time as you're doing a question on that topic.
When reading a question, underline or highlight the important details.
Label the task to be perfomed on paper or in your mind. If you think "aha, I've got to solve this quadratic for its roots and substitute those values into the formula for area" you'll have a plan of attack and won't be mystified each time you finish a step in the process.
If you get stuck on something -- leave it!! Do something else -- then come back to it when you've finished everything you can do without getting stuck. If you run out of room to complete the question, write the teacher a note indicating where the rest of the question's solution can be found. Don't waste time putting yourself into a state of panic.
Follow these simple rules and you'll not only find that you're passing your math exams, you'll be amazed at how high your marks are.
TtT