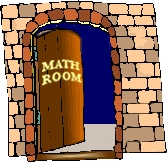 MathRoom Quotes

"To succeed you have to believe in something with such a passion
that it becomes a reality." Anita Roddick
Heresy is another word for freedom of thought.
Graham Greene, novelist and journalist (1904-1991)
The soul is characterized by these capacities:
self-nutrition, sensation, thinking, and movement. Aristotle
The true lover of knowledge naturally strives for truth,
and is not content with common opinion, but soars with undimmed and
unwearied passion till he grasps the essential nature of things. Plato
A teacher who is attempting to teach, without inspiring
the pupil with a desire to learn, is hammering on a cold iron.
Horace Mann, educational reformer (1796-1859)
Everything should be made as simple as possible,
but not simpler! Albert Einstein, great mind – bad hair!
The mathematician has reached the highest rung on
the ladder of human thought. Havelock Ellis
I'm always amazed that people will actually choose to sit in front of
the television and just be savaged by stuff that belittles
their intelligence. Alice Walker, writer (1944- )
To know how to say what others only know how to think
is what makes men poets or sages;
and to dare to say what others only dare to think
makes men martyrs or reformers - or both.
Elizabeth Charles, writer (1828-1896)
We're not here for a long time – we're here for a good time.
Epicurus – he said it in Greek a long time ago.
Just because some of us can read and write and do a little math, that doesn't mean we deserve to conquer the Universe. Kurt Vonnegut, the final sentence of Hocus Pocus.
There is no such thing as security! All you can aim for
is to live in peaceful, compassionate insecurity. Tammy Bee
Drifting through time and space on the face of a little blue ball,
falling around the sun. One in a million, billion twinkling lights
shining out for no one -- in the middle of the night.
James Taylor, "Here We Are" on the JT album
George W. Bush hates the Arabs because they invented Algebra.
Kurt Vonnegut from "Cold Turkey" -- an article expressing his
reaction to the so called "War on Terror".
He who is not busy being born is busy dieing.
Bob Dylan, antenna to the collective unconscious.
If you've got it and you don't pass it on, you're a shit.
Herb Ellis, guitarist, mench, mentor and friend.
Don't piss on the fire until you've warmed your hands at it.
Master Lee, Oriental sage, Tao coach.
The only constant in life – is change.
Ancient Chinese Sages – authors of the I Ching.
I'd rather run out of money than run out of time.
If I still have time – I can make more money.
If I'm out of time – I'm dead – I don't need money.
Tammy the Tutor