article from THE CHRONICLE Wednesday, January 10th, 2007
Briefly Bram
Tammy Bailis: where math, music and magic intersect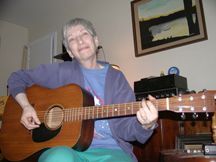 BY BRAM EISENTHAL
When I was in school, I could tolerate much of the tedium that came with the good stuff they crammed into my thick skull, but one subject always terrified me — math. The fact that the dreadful Mrs. Barlow forced her Grade 6 Sir Arthur Currie males to stand on their desks — her innovation on the classic dunce cap — whenever we erred in a blackboard math problem, likely exacerbated my fear of equations and other mathematical props.

So, when I met NDG's Tammy Bailis, one of the unbelievably talented musicians who thrilled the audience at the recent Fraser-Hickson-hosted tribute to Leonard Cohen, I was intrigued when I learned she was none other than math whiz Tammy the Tutor, the self-proclaimed "best math tutor in town." I had to learn more.

Spending a couple of hours with Bailis, whose Russian parents changed their name from Bialik (she is a great-granddaughter of the man that the Côte Saint-Luc high school is named for) is a life-altering experience. She immediately expounds on the importance of numbers to life: "Math is music — What does the conductor do before he starts? He counts." Or, "What do you see the second you wake up every morning? Numbers … on your alarm clock!" and "What happens the moment you are born? They count your fingers and toes" were but three of the enlightenments she left me to ponder.

Regarding life itself, she has a philosophy, as well. "The pursuit of happiness … what a load of garbage that is," Bailis says. "The pursuit of life, that's what it's all about!" Turning 60 in a few short weeks, Bailis, who chastises you if you refer to her as a lady, preferring the term 'broad', does something few people actually do. She lives every day to the fullest. A math genius as a child who "cried if I got less than 95 on an exam," she has parlayed that God-given talent into teaching young people that math isn't anything to fear. "It's all about the teacher," she states, proudly showing off the motto on her T-shirt, "I touch the future … I teach."

"The difference between a good math student and one who can't grasp it is a devoted, passionate teacher (Mrs. Barlow, can you hear me?). And you have to teach learning skills to them, not just math."

She does just that — teaches learning — on her incredibly brilliant, entertaining and educational website, www.the-mathroom.ca. Once there, you will find a brave new world of free, innovative math lessons, poetry, music, humour and Tammy's blog, Trisanity, filled with "thought-provoking exchanges on Taoism, Chinese Astrology, Mathematics, Education, GAIA — our planet, and of course, Sillyness." If this blog doesn't convince you that she's a one-of-a-kind broad, nothing will.

Except, that is, her music. "Pythagoras wasn't a mathematician," she points out. "He was a musician. It's the music that makes all of this worth it, keeps me sane." Hearing her stunning two-song contribution at the Cohen event in December compelled me to write this column and I strongly advise you to experience that by clicking on the selection of her music on the site.

Bailis ended our interview by singing me a couple of songs while strumming her guitar, including a beautiful rendition of one of her favourites, James Taylor's 'Secret of Life'. She also related an early Cohen reminiscence.

"Joni Mitchell had just started her career and was in Montreal, playing at the New Penelope on Sherbrooke Street. Early on, she was terrified of an audience, but she wowed everyone from her very first song. As she started her second one, Leonard, already an icon by then, walked in, but no one turned their head (Mitchell's voice was so riveting). He began talking to someone quite loudly. I walked over to him, grabbed his arm and admonished him for his massive ego."

Bailis has newfound respect for Cohen since that day. "Yes, my sentiments have changed, especially since hearing him admit, during a recent interview, a basic facet of life: "Men mature reluctantly."

Apparently, a very tough broad to impress.